$24.99
AUD
Category: Junior Fiction
Celebrating 100 years of the iconic character and Aussie legend Ginger Meggs, these four brand new and original stories are written by Tristan Bancks, the great-great nephew of creator Jimmy Bancks, and illustrated in full colour by the current Ginger Meggs comic-strip cartoonist, Jason Chatfield. Kids and grown-ups alike will revel in the rambunctious adventures and comical capers of the ginger kid who never gets old. ...Show more
$45.00
AUD
Category: Junior Fiction
A mythical monster, a kingdom in peril, an adventure that will test two children's bravery to the limit. Discover a brilliantly original fairy tale about the power of hope and friendship to triumph against all odds, from one of the world's best storytellers. The kingdom of Cornucopia was once the happie st in the world. It had plenty of gold, a king with the finest moustaches you could possibly imagine, and butchers, bakers and cheesemongers whose exquisite foods made a person dance with delight when they ate them. Everything was perfect – except for the misty Marshlands to the north which, according to legend, were home to the monstrous Ickabog. Anyone sensible knew that the Ickabog was just a myth, to scare children into behaving. But the funny thing about myths is that sometimes they take on a life of their own. Could a myth unseat a beloved king? Could a myth bring a once happy country to its knees? Could a myth thrust two children into an adventure they didn't ask for and never expected? If you're feeling brave, step into the pages of this book to find out… A beautiful hardback edition, perfect for sharing and gift-giving. Brought to life with full-colour illustrations by the young winners of The Ickabog competition.   ...Show more
$14.99
AUD
Category: Junior Fiction
Mei Ling Pang was born at an inauspicious time on an inauspicious day, so wherever she goes, misfortune follows. When Little Jiang hops out of his grave and into Mei's life, fangs and all, her luck goes from bad to worse. But in trying to help Little Jiang, Mei might just make her own future brighter. ...Show more
$15.99
AUD
Category: Junior Fiction | Series: Skydragon
May 2021 Release  Amber is back! The second book in the high-flying adventure series from Anh Do.   Amber held her arms out. Surround me. Locusts, beetles, bees and all manner of flying insects nestled together tightly. Shapes formed. Horns on her head, claws on her hands and feet. A thick, long tail. She was a dragon! Amber is on the run. What will happen when she and the Firefighter finally come face to face?   ...Show more
$16.99
AUD
Category: Junior Fiction | Series: Wednesday Weeks Ser.
In a world of magic, can science save the day? Wednesday Weeks never wanted to be a sorcerer's apprentice. She'd rather study science than magic. But when her cloak-wearing, staff-wielding grandpa is captured by a power-hungry goblin king, Wednesday must find a way to embrace her magical heritage and re scue him from the dreaded Tower of Shadows. Luckily, she's not alone. Her best friend Alfie is a prime-number fan and robotics expert who's all-in on Wednesday's epic plan involving parallel universes, swords of power, and a wise-cracking talking skull. But it's going to take more than science, magic, and the world's cutest robot to take down this bad guy. Because the goblin king is playing for the ultimate prize - and Wednesday and Alfie just walked into his trap...   ...Show more
$17.99
AUD
Category: Junior Fiction
The first middle-grade novel from award-winning author Nicki Greenberg, this book is a classic whodunnit mystery set aboard a grand ocean liner in the 1920s. For as long as she can remember, Pepper Stark has wanted one thing: to join her father, the Captain, aboard the magnificent RMS Aquitania on a vo yage to New York. She has never been allowed to set foot on her father's ship – until now. From the decadent food to the star-studded passenger list, travelling First Class on Aquitania is every bit as glamorous as Pepper had imagined. And most dazzling of all is American stage sensation Perdita West, wearing the world-famous Saffron Diamond around her neck. When the priceless jewel disappears mid-voyage, Pepper unexpectedly finds herself entangled in the crime. With the Captain's reputation at stake, Pepper and her new friends set out to solve the mystery. But finding a missing diamond isn't so easy on Aquitania, where everyone has something to hide … With first-class glitz and glamour and a deliciously plotted intrigue featuring an uppity stage star, a missing diamond, a leopard and a loveable cast of child sleuths, The Detective's Guide to Ocean Travel is an exciting romp on the high seas, perfect for fans of Murder Most Unladylike and The Good Thieves. ...Show more
$15.99
AUD
Category: Junior Fiction | Series: Wolf Girl
A wildly exciting adventure series from bestselling author Anh Do. Wolf Girl and her trusty dogs are back for another hackle-raising adventure. On the run from sinister forces, Gwen rushes head-long into danger. With giant snakes, komodo dragons and a whole new wolf pack to contend with, Wolf Girl will need all her cunning... and all her friends.   ...Show more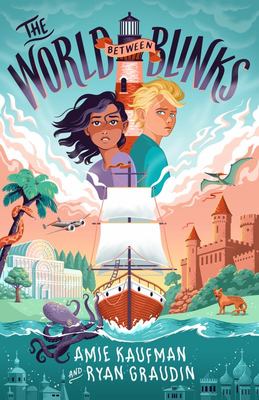 $16.99
AUD
Category: Junior Fiction | Series: The\World Between Blinks Ser.
Discover a magical world where lost things are found ... Whenever cousins Jake and Marisol get together, adventure follows. They have their late Nana to thank for that. Her epic trips and treasure hunts were the stuff of family legend. This summer, with the whole family reuniting for one last vacation at Nana's home, the cousins are in for a legendary trip of their own. Following a map Nana left behind, Jake and Marisol sneak out to a nearby lighthouse - then accidentally slip into another world ... The World Between Blinks is a magical place, where all kinds of lost things (and people!) end up. Everywhere they turn, the cousins find real mysteries from history - plus a few they thought were only myths. But the man who holds the key to Jake and Marisol's return journey doesn't want to be found ... and if the cousins don't catch him fast, they could end up lost in this world for good. PRAISE FOR THE WORLD BETWEEN BLINKS:' An inventive, heartwarming first book in a new middle-grade series.'- Kirkus 'A brilliant, heartwarming blend of history, mystery, and adventure. I raced through every page, afraid to blink and miss part of the wonder.'- Shannon Messenger, bestselling author of Keeper of the Lost Cities Series 'A fast-paced fantasy adventure that will appeal to genre fans and reluctant middle grade readers alike.'- School Library Journal, starred review '[an] incredibly inventive story, chock-full of delightful descriptions and fascinating tidbits ... [and] a charming crash course in a host of historical mysteries and figures. Readers will have enormous fun ... all while learning lessons on the power of love, the value of memories, and the wonders that the world holds.' - Booklist, starred review ...Show more
$16.99
AUD
Category: Junior Fiction
How do you pretend everything is fine when those that you love are in danger? If people you once trusted are now deemed a threat? After winning the National STEM Championships, Kensy, Max and a team of students from Central London Free School are ready to compete for the international trophy in Singapor e. But when Granny Cordelia is poisoned, the twins no longer feel like celebrating. They still have a duty to their team though, and everyone seems to think they'll be safe in a country halfway around the world. It turns out that Singapore is rife with mysteries. Soon Kensy and Max have uncovered a much larger case than anyone counted on. And this time, it's personal. ...Show more
$16.99
AUD
Category: Junior Fiction
From Governor General's Literary Award finalist Michelle Kadarusman, an empowering novel about a girl from the slums of Jakarta who dreams of an education and the chance at a better life From the time she was a little girl, Nia has dreamed up adventures about the Javanese mythical princess, Dewi Kadita. Now fourteen, Nia would love nothing more than to continue her education and become a writer. But high school costs too much. Her father sells banana fritters at the train station, but too much of his earnings go toward his drinking habit. Too often Nia is left alone to take over the food cart as well as care for her brother and their home in the Jakarta slums. But Nia is determined to find a way to earn her school fees. After she survives a minibus accident unharmed and the locals say she is blessed with 'good luck magic, ' Nia exploits the notion for all its worth by charging double for her fried bananas. Selling superstitions can be dangerous, and when the tide turns it becomes clear that Nia's future is being mapped without her consent. If Nia is to write a new story for herself, she must overcome more obstacles than she could ever have conceived of for her mythical princess, and summon courage she isn't sure she has. A portion of the proceeds from this #ownvoices story are in support of Plan International Canada Because I Am A Girl ...Show more
$19.99
AUD
Category: Junior Fiction | Series: Skulduggery Pleasant
Skulduggery, Valkyrie and Omen return in the 14th and penultimate novel in the internationally bestselling Skulduggery Pleasant series – and their most epic test yet… In a matter of days, the world will change. Billions of lives will be wiped away in a final, desperate search for the Child of the Facel ess Ones - she who is destined to bring about the return of humankind's ancient overlords. To prevent this, Skulduggery Pleasant and Valkyrie Cain have one last – terrible – option: the assassination of Damocles Creed. With protests stirring in the magical city of Roarhaven, with riots and revolutions on the horizon, Valkyrie must decide who she wants to be: the hero who risks everything for a noble ideal, or the killer who sacrifices her own soul for the fate of humanity. The decision must be made, and time is running out.   ...Show more
$4.99
AUD
Category: Junior Fiction | Series: Treehouse | Reading Level: very good
Andy and Terry's 13-storey treehouse is the most amazing treehouse in the world! It's got a bowling alley, a see-through swimming pool, a tank full of man-eating sharks, a giant catapult, a secret underground laboratory and a marshmallow machine that follows you around and shoots marshmallows into your mouth whenever you're hungry.Well, what are you waiting for? Come on up! ...Show more