$16.99
AUD
Category: Junior Fiction | Series: Wings of Fire
Clay and his friends have grown up under a mountain, secretly raised by the Talons of Peace to fulfill a mysterious prophecy. The five young dragons are destined to end the war that's been raging between the tribes of Pyrrhia--but how they'll do this, none of them knows. But not every dragonet wants a destiny. When one of their own is threatened, Clay and his friends decide to escape. Maybe they can break free and end the war at the same time--or maybe they'll risk everything... ...Show more
$15.99
AUD
Category: Junior Fiction | Series: Wolf Girl
A wildly exciting adventure series from bestselling author Anh Do. Wolf Girl and her trusty dogs are back for another hackle-raising adventure. On the run from sinister forces, Gwen rushes head-long into danger. With giant snakes, komodo dragons and a whole new wolf pack to contend with, Wolf Girl will need all her cunning... and all her friends.   ...Show more
$9.99
AUD
Category: Junior Fiction | Series: The\Babysitters Club Ser.
Kristy's mum got married again last summer and now Kristy and her family live in a new neighborhood. The kids aren't very friendly. In fact, they're... well, snobs. They criticize Kristy's clothes. They make fun of the Baby-sitters Club. And worst of all, they laugh at Louie, Kristy's pet collie, who's going blind. Nobody does that and gets away with it! Kristy's fighting madand she's not going to put up with it much longer. If anybody can beat a Snob Attack, it's the Baby-sitters Club. And that's just what they're going to do. ...Show more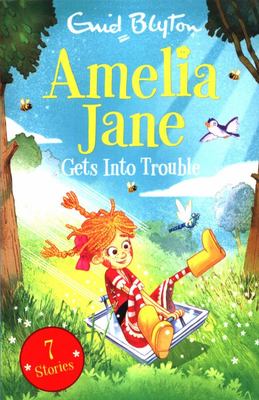 $14.99
AUD
Category: Junior Fiction | Series: Amelia Jane
Meet Amelia Jane! She's a (mischievous) Strong Independent Rag Doll and she's about to enchant a whole new generation of readers! A collection of 7 classic fantastical short stories from the world's best-loved children's author, Enid Blyton. Amelia Jane has an uncanny knack for getting herself into mis chief and into trouble with the rest of the toys in the playroom - from hiding under a big pile of alphabet blocks to painting the poor toy sailor's face green! But when a big heart and adventurous spirit is what's needed to rescue everyone, Amelia is the rag doll to do it! Short, entertaining and accessible stories make the Amelia Jane books perfect for bedtime reading and for newly independent readers of five and upwards. A charming and fun offering for grandparents and parents to share with the next generation of Blyton fans. ...Show more
$45.00
AUD
Category: Junior Fiction
A mythical monster, a kingdom in peril, an adventure that will test two children's bravery to the limit. Discover a brilliantly original fairy tale about the power of hope and friendship to triumph against all odds, from one of the world's best storytellers. The kingdom of Cornucopia was once the happie st in the world. It had plenty of gold, a king with the finest moustaches you could possibly imagine, and butchers, bakers and cheesemongers whose exquisite foods made a person dance with delight when they ate them. Everything was perfect – except for the misty Marshlands to the north which, according to legend, were home to the monstrous Ickabog. Anyone sensible knew that the Ickabog was just a myth, to scare children into behaving. But the funny thing about myths is that sometimes they take on a life of their own. Could a myth unseat a beloved king? Could a myth bring a once happy country to its knees? Could a myth thrust two children into an adventure they didn't ask for and never expected? If you're feeling brave, step into the pages of this book to find out… A beautiful hardback edition, perfect for sharing and gift-giving. Brought to life with full-colour illustrations by the young winners of The Ickabog competition.   ...Show more
$79.99
AUD
Category: Junior Fiction | Series: Amulet
A collection of the first seven books in Kazu Kibuishi's #1 New York Times bestselling series After tragedy strikes their family, Emily and Navin move with their mother into the old, mysterious home of their great-grandfather. On their first night in the strange house, Emily and Navin's mom is kidnappe d by a tentacled creature. Determined to rescue her, Emily and Navin are led into a world of robots, talking animals, flying ships, new friends . . . and enemies. Emily learns that she is a Stonekeeper and essential to the survival of this world, and that her incredible story is only just beginning. ...Show more
$14.99
AUD
Category: Junior Fiction | Series: The One and Only Ivan
Return to the unforgettable world of the Newbery Medal-winning and #1 New York Times bestselling novel The One and Only Ivan (soon to be a major motion picture)in this incredible sequel, starring Ivan's friend Bob! Bob sets out on a dangerous journey in search of his long-lost sister with the help of h is two best friends, Ivan and Ruby. As a hurricane approaches and time is running out, Bob finds courage he never knew he had and learns the true meaning of friendship and family. Bob, Ivan and Ruby have touched the hearts of millions of readers, and their story isn't over yet. Catch up with these beloved friends before the star-studded film adaptation of The One and Only Ivan hits cinemas in August 2020!   ...Show more
$45.00
AUD
Category: Junior Fiction
An essential companion to the Harry Potter series, this spectacular new full-colour edition of J.K. Rowling'' s Quidditch Through the Ages brings together one of the worl'' s best loved storytellers with the creative genius of Emily Gravett. A sumptuous visual feast of a book, the pages are bursting wit h glorious illustrations, handmade memorabilia and two breathtaking gatefold spreads. This sporting almanac promises magic and wonder in equal measure for both newcomers to the Wizarding World and established Harry Potter fans. Each amazing page is waiting to pored over and enjoyed! Ron Weasley Devoured by Harry Potter in his first year, Quidditch Through the Ages is consulted on a daily basis by the young witches and wizards at Hogwarts. Kennilworthy Whis'' s sporting bible whisks readers through a whistle-stop tour of the wizarding worl'' s favourite sport. Packed with trivia, tales of on-pitch antics, and Quidditch stars past and present, the sports almanac also contains comprehensive profiles of Quidditch teams loved by readers of the Harry Potter novels - Chudley Cannons, Puddlemere United, Vratsa Vultures and many more......   ...Show more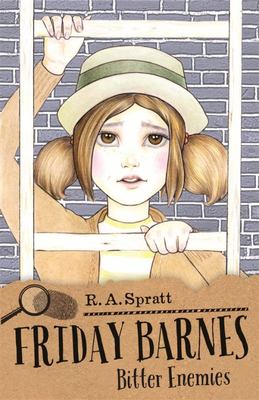 $15.99
AUD
Category: Junior Fiction | Series: Friday Barnes
Headmasters behaving badly!When four former headmasters arrive at Highcrest Academy to take part in the school's anniversary celebrations, the students are warned to be on their best behaviour. Unfortunately, no one told the headmasters to stay out of mischief too! Which means Friday Barnes soon has a c ase to solve. But unravelling the truth isn't easy when the whole school is being forced to eat paleo because the cook is on a diet; her best friend's brother won't stop blubbering about the terrible boat accident he may or may not have caused; and Friday is being trailed by a mysterious admirer - or is it a stalker? Can Friday find the facts among the mayhem? She'd better. The fate of Highcrest depends on it! ...Show more
$12.99
AUD
Category: Junior Fiction
Two intrepid girls go from ladies-in-waiting to knights-in-action when they rip up the rule book and go searching for adventure! Wondermere is the luckiest kingdom in the land, all thanks to the dragons that nest on top of the castle. Nobody wants them to fly away, so everyone has to FOLLOW THE RULES a nd make sure everything STAYS THE SAME to keep the dragons HAPPY. P rincess Grace HATES the rules. They stop her doing everything she loves, like PLAYING TROLL-O and WEARING TROUSERS and training to be a BRAVE KNIGHT. Why do boys get all the FUN! Determined to prove that the rules are a LOAD OF OLD SWAMP ROT, Grace and her sister Princess Portia secretly enter the year's BIGGEST TROLL-O TOURNAMENT. A couple of rule-breakers couldn't possibly disturb the dragons could they? Cheeky, charming and laugh-out-loud funny, the debut young fiction series from bestselling picture book author Michelle Robinson is chock-full of chuckles (and grumpy unicorns). Perfect for fans of Cressida Cowell, Pamela Butchart and Emer Stamp. ...Show more
$14.99
AUD
Category: Junior Fiction
Mei Ling Pang was born at an inauspicious time on an inauspicious day, so wherever she goes, misfortune follows. When Little Jiang hops out of his grave and into Mei's life, fangs and all, her luck goes from bad to worse. But in trying to help Little Jiang, Mei might just make her own future brighter. ...Show more
$15.99
AUD
Category: Junior Fiction | Series: Ninja Kid
Grandma has invented the COOLEST thing evera GLOVE that can bring toys to life! But when the glove is stolen, Nelson and Kenny have to find a way to get it back... before a CRAZY TOY ARMY takes over the WHOLE TOWN!