$19.99
AUD
Category: Picture Books
An insightful, topical and practical picture book story about a family coping with the changes brought about by Covid 19, from the much-loved Jamila Rizvi. Inspired by her own child's experience, Jamila wrote I'm a Hero Too to help children make sense of the changes to their world and to help them feel empowered and reassured about how they can be a hero at their house too! A story for our time right now, but also for all times, as children will always need reassurance about change. Arty likes going to kinder, visiting his granny and playing with his friends at the playground, but since the virus came everything has changed and Arty can't do any of his favourite things anymore. Arty's mum is a hero, she's a scientist, helping to make medicines to fight the virus. Arty has a special plan about how he can be a hero and do his bit to help fight the virus too! ...Show more
$22.99
AUD
Category: Picture Books
Bryce McFee is an ordinary boy bored with washing the flea-ridden family dog. So, he escapes to his imagination and flies across the backyard with a dandelion and seven bees. Trouble strikes when a swarm of pesky fleas gives chase, threatening to ruin his adventure. Ultimately, an unlikely friendship is formed between the flying boy and the fleas. A fun rhyming story that exercises the imagination. ...Show more
$14.99
AUD
Category: Picture Books | Series: Bluey
What will Bluey find when she explores the creek? Bluey has been a phenomenal success since airing on ABC KIDS in October 2018, amassing legions of dedicated fans and taking the coveted position of being the most watched program ever on ABC iView, with over 100 million plays. It has also topped the Aust ralian iTunes Kids Chart with the series peaking at #1 and consistently remaining in the Top 5. ...Show more
$24.99
AUD
Category: Picture Books
The first new Guess How Much I Love You picture-book story for 24 years! One day Big Nutbrown Hare is busy, but Little Nutbrown Hare wants to play so he goes off exploring on his own. He discovers another hare in a puddle – then realizes it's his reflection. He spots his shadow and wants to race it – o nly to find it's just as fast as him. Then up on Cloudy Mountain he finally finds someone to play with: a little snow white hare called Tipps. And she's real! This lovely new story is a wonderful companion to the classic picture-book Guess How Much I Love You; a charming tale about friendship with a delightful and original twist. ...Show more
$24.99
AUD
Category: Picture Books
One day, a parrot appears on the doorstep. His name isJimmy. Dad thinks Jimmy is amazing. He's loud, he's funny and he's full of surprises! But Jack doesn't like surprises. Not at all...  
$24.99
AUD
Category: Picture Books | Series: Claris
A sweet little mouse takes on a cheeky cat burglar with holiday cheer Can Claris and Monsieur save the day - the New York way?   The fourth Claris book from acclaimed fashion illustrator Megan Hess. The best-selling Claris series follows an adorable mouse who moves to Paris to follow her fashion dreams, for fans of Eloise and Olivia. Destined to delight fashion-obsessed readers of all ages   A quarter of a million Claris books in print   ...Show more
$14.99
AUD
Category: Picture Books
It's Bingo's turn to take Bob Bilby home. Will he have fun with Bluey and Bingo?  
$17.99
AUD
Category: Picture Books
Hippo was a hippo. Nothing more, nothing less. Im so plain... he sighed. Hippo wishes he had something a little extra... like a long trunk or a fancy mane. So what happens when Hippo stumbles upon a turtle that can make all his wishes come true?!  
$14.99
AUD
Category: Picture Books
Peppa and her family are going on an Australian submarine ride. They can't wait to see the colourful coral in the Great Barrier Reef! Peppa loves the Great Barrier Reef!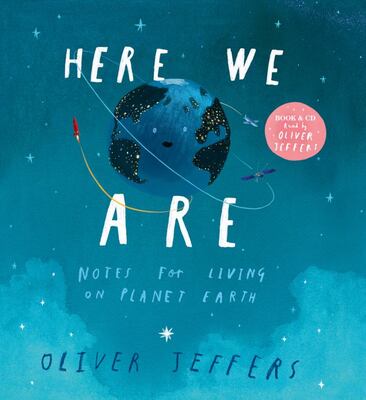 $19.99
AUD
Category: Picture Books
This book and CD edition of the exquisite and thought-provoking Here We Are comes with heartfelt, award-winning audio, read by the internationally best-selling creator himself, Oliver Jeffers! Well, hello. And welcome to this Planet. We call it Earth. Our world can be a bewildering place, especially if you've only just got here. Your head will be filled with questions, so let's explore what makes our planet and how we live on it. From land and sky, to people and time, these notes can be your guide and start you on your journey. And you'll figure lots of things out for yourself. Just remember to leave notes for everyone else… Some things about our planet are pretty complicated, but things can be simple, too: you've just got to be kind. Here We Are is the utterly heartfelt new book from Oliver Jeffers. We're glad you found it. "An optimistic snapshot of contemporary life, this heartfelt hug of a book ought to become a classic" The Guardian ...Show more
$17.99
AUD
Category: Picture Books
Betty Bunny REALLY doesnt want carrots for dinner. And shell say and do ANYTHING to get rid of carrots forever! Watch as Betty goes through all the stages of being HANGRY in this hilarious (and very relatable) book by David Campbell.