$14.99
AUD
Category: Graphic Novels | Series: My Hero Academia
Midoriya inherits the superpower of the world's greatest hero, but greatness won't come easy. What would the world be like if 80 percent of the population manifested superpowers called "Quirks"? Heroes and villains would be battling it out everywhere Being a hero would mean learning to use your power, b ut where would you go to study? The Hero Academy of course But what would you do if you were one of the 20 percent who were born Quirkless? Since the terrifying incident when Tomura's Quirk manifested, only the greatest villain of them all, All For One, has been able to speak to the broken young boy's heart. The consequences of that fateful meeting play out in the present as Tomura and Re-Destro, the leader of the Meta Liberation Army, battle for supremacy--and if it takes leveling a whole city to sort out who's on top, so be it ...Show more
$17.99
AUD
Category: Graphic Novels | Series: Dog Man
A brand-new graphic novel series by Dav Pilkey, the internationally bestselling author and illustrator of the DOG MAN and CAPTAIN UNDERPANTS series. Welcome to the Cat Kid Comic Club, where Li'l Petey (LP), Flippy, and Molly introduce twenty-one rambunctious, funny, and talented baby frogs to the art of comic making. As the story unwinds with mishaps and hilarity, readers get to see the progress, mistakes, and improvements that come with practice and persistence. Squid Kid and Katydid, Baby Frog Squad, Gorilla Cheese Sandwich, and Birds Flowers Tree: A Haiku Photo Comic are just some of the mini-comics that are included as stories-within-the-story, each done in a different style, utilizing humour and drama, prose and poetry, illustrated in different media including acrylics, pastels, coloured pencils, felt-tip markers, clay, hand-made cardboard sculptures, photographs, pipe cleaners, construction paper collages, and cookies. Readers of all ages will be inspired to dream up their own stories and unleash their own creativity as they dive into this pioneering graphic novel adventure from Dav Pilkey and his heartfelt, humorous, and amazing cast of characters in the Cat Kid Comic Club. ...Show more
$14.99
AUD
Category: Graphic Novels | Series: The Baby-Sitters Club Graphic
Kristy, Mary Anne, Claudia, and Stacey are best friends and founding members of The Baby-sitters Club. Whatever comes up -- cranky toddlers, huge dogs, scary neighbors, prank calls -- you can count on them to save the day. Baby-sitting isn't always easy, and neither is dealing with strict parents, new f amilies, fashion emergencies, and mysterious secrets. But no matter what, the BSC have what they need most: friendship.Raina Telgemeier, using the signature style featured in her acclaimed graphic novels Smile and Sisters, perfectly captures all the drama and humor of the original novel ...Show more
$26.99
AUD
Category: Graphic Novels | Series: Pokemon Adventures Collector's Edition Ser.
All your favorite Pokémon game characters jump out of the screen into the pages of this action-packed manga! A deluxe omnibus edition of the best-selling Pokémon Adventures manga series, collecting all 29 volumes of the original series into ten premium books. Red doesn't just want to train Pokémon, he wants to be their friend too. That makes things even more complicated than usual as he travels through dangerous zones battling gym leaders for badges and discovering secret Pokémon along the way. Now he's got to team up with his rival Blue and the thief Green to fight a common enemy. Can he stay focused enough to rise to the challenge? Collects the original Pokémon Adventures volumes 1, 2 and 3!   ...Show more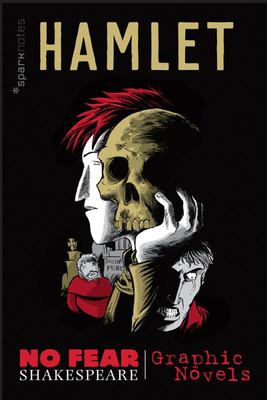 $19.99
AUD
Category: Graphic Novels | Series: No Fear Shakespeare
Read HAMLET in graphic-novel form--with NO FEAR NOW IN COLOR   Based on the No Fear Shakespeare translations, this dynamic graphic novel--now with color added--is impossible to put down. The illustrations are distinctively offbeat, slightly funky, and appealing to teens.   Includes: - An illustra ted cast of characters - A helpful plot summary - Illustrations that show the reader exactly what's happening in each scene--making the plot and characters clear and easy to follow ...Show more
$16.99
AUD
Category: Graphic Novels | Series: Emmie and Friends
National bestselling author Terri Libenson returns with another endearing, relatable story of friendship and finding confidence. Perfect for fans of Raina Telgemeier and Jennifer L. Holm. Middle school is full of challenges. Everyone knows how much brainy Bri likes the spotlight (not). So why did she ever agree to something that forces her to learn a new language, give a speech, help organize a party, and juggle drama at school and home?! As the big event inches closer, Bri wonders if it's all worth it. . . . Told in alternating past and present chapters, Bri's heartwarming story unfolds over the eight months leading up to her bat mitzvah--as well as over the course of the big day itself. Plus don't miss Terri Libenson's Invisible Emmie, Positively Izzy, and Just Jaime! ...Show more
$22.99
AUD
Category: Graphic Novels | Series: Bleach: Can't Fear Your Own World Ser.
The bestselling paranormal action adventure manga series Bleach continues in novel form as an all-new threat arises   The Quincies's Thousand Year Blood War is over, but the embers of turmoil still smolder in the Soul Society. Tokinada Tsunayashiro, elevated to head of his clan after a slew of assassi nations take out every other claimant to the title, has a grand plan to create a new Soul King. His dark ambitions soon sow the seeds of a new total war across the realms, but all is not lost. There is one unlikely Soul Reaper who holds the key to defusing the conflict--Shuhei Hisagi, assistant captain of the Ninth Company and reporter for the Seireitei Bulletin ...Show more
$16.99
AUD
Category: Graphic Novels
Book two in the #1 New York Times best-selling Descendants series, now in a wickedly fun, action-packed graphic novel! When Mal and her friends Evie, Carlos and Jay all receive threatening messages demanding they return home, they have a sneaking suspicion that their villainous parents are behind the me ssages. And when Evie looks into her Magic Mirror, what she sees only confirms their fears. Maleficent's just a tiny lizard after her run-in with Mal at Ben's Coronation, but she's the worst villain in the land for a reason. Could she have found a way to escape? Whatever's going on, the friends know they have to sneak back to the Isle and get to the bottom of it. Will they be able to beat the evil bubbling at the Isle's wicked core, or will the plot to destroy Auradon succeed? ...Show more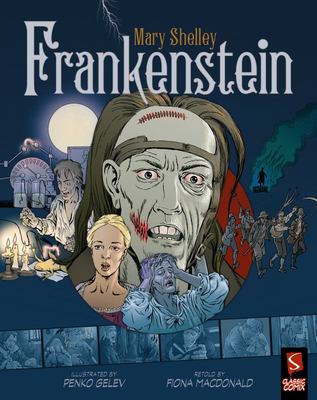 $19.99
AUD
Category: Graphic Novels | Series: Classic Comix Ser.
Story - Wikipedia's description: « Frankenstein; or, The Modern Prometheus is a novel written by English author Mary Shelley (1797-1851) that tells the story of Victor Frankenstein, a young scientist who creates a hideous, sapient creature in an unorthodox scientific experiment. Shelley started writing the story when she was 18, and the first edition of the novel was published anonymously in London on 1 January 1818, when she was 20. Her name first appeared on the second edition, published in 1823. Frankenstein is infused with elements of the Gothic novel and the Romantic movement. At the same time, it is an early example of science fiction. Brian Aldiss has argued that it should be considered the first true science fiction story because, in contrast to previous stories with fantastical elements resembling those of later science fiction, the central character "makes a deliberate decision" and "turns to modern experiments in the laboratory" to achieve fantastic results. It has had a considerable influence in literature and popular culture and spawned a complete genre of horror stories, films and plays. Since the novel's publication, the name "Frankenstein" has often been used to refer to the monster itself. This usage is considered erroneous, but some commentators regard it as well-established and acceptable. In the novel, Frankenstein's creation is identified by words such as "creature", "monster", "daemon", "wretch", "abortion", "fiend" and "it". Speaking to Victor Frankenstein, the monster says "I ought to be thy Adam, but I am rather the fallen angel" (which ties to Lucifer in Paradise Lost, which the monster reads, and which relates to the disobedience of Prometheus in the book's subtitle). » **** Author - Wikipedia's description: « Mary Shelley (1797 - 1851) was an English novelist who wrote the Gothic novel Frankenstein; or, The Modern Prometheus (1818). She also edited and promoted the works of her husband, the Romantic poet and philosopher Percy Bysshe Shelley. Her father was the political philosopher William Godwin, and her mother was the philosopher and feminist Mary Wollstonecraft. After Wollstonecraft's death less than a month after her daughter Mary was born, Mary was raised by Godwin, who was able to provide his daughter with a rich, if informal, education, encouraging her to adhere to his own anarchist political theories. When Mary was four, her father married a neighbour, with whom, as her stepmother, Mary came to have a troubled relationship. In 1814, Mary began a romance with one of her father's political followers, Percy Bysshe Shelley, who was already married. Together with Mary's stepsister Claire Clairmont, Mary and Shelley left for France and travelled through Europe. Upon their return to England, Mary was pregnant with Percy's child. Over the next two years, she and Percy faced ostracism, constant debt, and the death of their prematurely born daughter. They married in late 1816, after the suicide of Percy Shelley's first wife, Harriet. In 1816, the couple famously spent a summer with Lord Byron, John William Polidori, and Claire Clairmont near Geneva, Switzerland, where Mary conceived the idea for her novel Frankenstein. The Shelleys left Britain in 1818 for Italy, where their second and third children died before Mary Shelley gave birth to her last and only surviving child, Percy Florence Shelley. In 1822, her husband drowned when his sailing boat sank during a storm near Viareggio. A year later, Mary Shelley returned to England and from then on devoted herself to the upbringing of her son and a career as a professional author. The last decade of her life was dogged by illness, most likely caused by the brain tumour which killed her at age 53. » ...Show more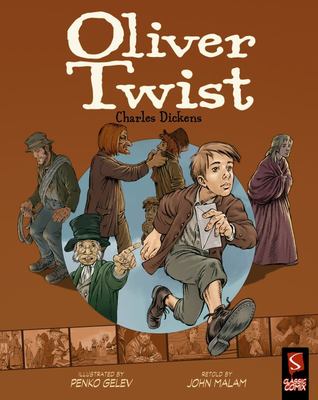 $19.99
AUD
Category: Graphic Novels | Series: Classic Comix Ser.
A set of 6 much-loved stories from classic English literature for children, brought together by Puffin Classics in beautiful paperback cover designs. The classic story of a young boy who seeks his fortune on the streets of London. After Oliver Twist asks nasty Mr Bumble for more food, he has to flee t he workhouse for the streets of London. Here he meets the Artful Dodger, who leads him to Fagin and his gang of pickpockets. When a thieving mission goes wrong, Oliver narrowly avoids prison and finds himself in the care of kind Mr Brownlow. But Fagin and the brutal Bill Sikes go in search of the young orphan, determined to drag him back . . . In the same collection: PETER PAN THE GREAT ADVENTURES OF SHERLOCK HOLMES ALICE'S ADVENTURES IN WONDERLAND FIVE CHILDREN AND IT GULLIVER'S TRAVELS ...Show more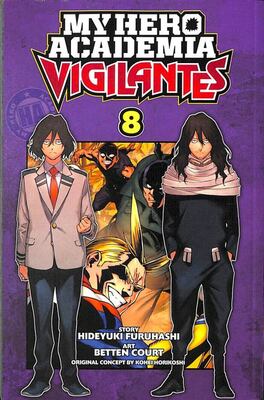 My Hero Academia: Vigilantes, Vol. 8
by Hideyuki Furuhashi; Betten Court (Illustrator); Kohei Horikoshi (Created by)
$14.99
AUD
Category: Graphic Novels | Series: My Hero Academia: Vigilantes Ser.
Not everyone needs a license to fight for justice   In a superpowered society, there is nothing ordinary about evil anymore. Heroes, trained and licensed to protect and defend the public against supervillains, stand above all the rest. Not everyone can be a hero, however, and there are those who would use their powers to serve the people without legal sanction. But do they fight for justice in the shadows, or for reasons known only to themselves? Whatever they fight for, they are called...vigilantes.   Captain Celebrity and Koichi gave it all they had to hold off the explosive attacks set up by the mysterious high-speed villain. But now, as the Sky Egg stadium plunges earthward, can anyone save the day? And just who is the sinister speedster? What is his connection to Knuckleduster? Koichi's mentor still has a lot of secrets he hasn't told anyone. Later, Aizawa helps Koichi deal with a minor villain and the encounter triggers a memory from his youth... ...Show more
$16.99
AUD
Category: Graphic Novels | Series: Five Nights at Freddy's Ser.
A pulsepounding collection! Series creator, Scott Cawthon, spins three sinister novella-length stories from di erent corners of FNAFs canon. Each story comes complete with accompanying artwork from a fan-favourite game artist, to bring the horror to life in a whole new way. Readers beware: In this start ling world, desperate wishes have an unexpected cost, beautiful trinkets reveal appalling powers, and harmless pranks can go awry in ghastly ways. ...Show more