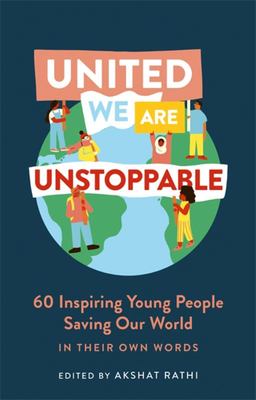 $24.99
AUD
Category: Current Affairs
Aditya Mukarji (16) stopped 26 million straws from polluting the oceans. Cecilia La Rose (15) filed a lawsuit against the Canadian federal government for contributing to global warming. Kaze Delphin (19) founded a company that produces eco-charcoal from organic waste in Burundi. From Asia to Africa, Oceania to Europe, the Americas and Antarctica, see the world through the eyes of 60 young people who are fighting for their homes and their futures. These stories are devastating, defiant, inspiring and moving - but, above all, they are full of hope. The climate crisis can feel overwhelming but, as this book shows, for every problem there are young voices raising awareness, creating solutions and demanding that things change. It's not too late to save the world. United, we really are unstoppable. ...Show more
$22.99
AUD
Category: Current Affairs
It is becoming clear that the old frames of reference are not working, that the narratives used for decades to stave off progressive causes are being exposed as falsehoods. Six myths have taken hold, ones which are at odds with our lived experience and in urgent need of revision. Has freedom of speech become a cover for promoting prejudice? Has the concept of political correctness been weaponised to avoid ceding space to those excluded from power? Does white identity politics pose an urgent danger? These are some of the questions at the centre of Nesrine Malik's radical and compelling analysis that challenges us to find new narrators whose stories can fill the void and unite us behind a shared vision. ...Show more
$22.99
AUD
Category: Current Affairs
Dark Emu argues for a reconsideration of the 'hunter-gatherer' tag for pre-colonial Aboriginal Australians and attempts to rebut the colonial myths that have worked to justify dispossession. Accomplished author Bruce Pascoe provides compelling evidence from the diaries of early explorers that suggests that systems of food production and land management have been blatantly understated in modern retellings of early Aboriginal history, and that a new look at Australia's past is required. ...Show more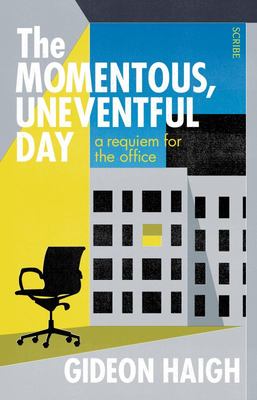 $24.99
AUD
Category: Current Affairs
Has COVID-19 ushered in the end of the office? Or is it the office's final triumph? For decades, futurologists have prophesied a boundaryless working world, freed from the cramped confines of the office. During the COVID-19 crisis, employees around the globe got a taste of it. Confined by lockdown to t heir homes, they met, mingled, collaborated, and created electronically. At length, they returned to something approaching normality. Or had they glimpsed the normal to come? In The Momentous, Uneventful Day, Gideon Haigh reflects on what COVID-19 revealed about our ambivalent relationship to office work and office life, how we ended up with the offices we have, how they have reflected our best and worst instincts, and how these might be affected by a world in a time of contagion. Like the factory in the nineteenth century, the office was the characteristic building form of the twentieth, reshaping our cities, redirecting our lives. We all have a stake in how it will change in the twenty-first. Enlivened by copious citations from literature, film, memoir, and corporate history, and interspersed with relevant images, The Momentous, Uneventful Day is the ideal companion for a lively current debate about the post-pandemic office. ...Show more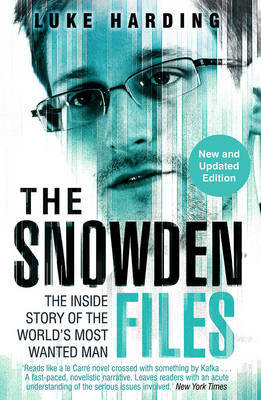 $22.99
AUD
Category: Current Affairs
It began with an unsigned email: "I am a senior member of the intelligence community". What followed was the most spectacular intelligence breach ever, brought about by one extraordinary man, Edward Snowden. The consequences have shaken the leaders of nations worldwide, from Obama to Cameron, to the pre sidents of Brazil, France, and Indonesia, and the chancellor of Germany. Edward Snowden, a young computer genius working for America's National Security Agency, blew the whistle on the way this frighteningly powerful organisation uses new technology to spy on the entire planet. The spies call it "mastering the internet". Others call it the death of individual privacy. This is the inside story of Snowden's deeds and the journalists who faced down pressure from the US and UK governments to break a remarkable scoop. Snowden's story reads like a globe-trotting thriller, from the day he left his glamorous girlfriend in Hawaii, carrying a hard drive full of secrets, to the weeks of secret-spilling in Hong Kong and his battle for asylum. Now stuck in Moscow, a uniquely hunted man, he faces US espionage charges and an uncertain future in exile. What drove Snowden to sacrifice himself? Award-winning Guardian journalist Luke Harding asks the question which should trouble every citizen of the internet age. Luke Harding's other books include Wikileaks: Inside Julian Assange's War on Secrecy and Mafia State: How One Reporter Became an Enemy of the Brutal New Russia. ...Show more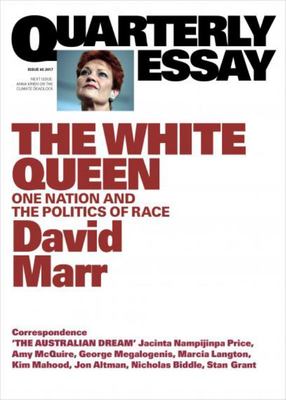 $22.99
AUD
Category: Current Affairs | Series: Quarterly Essay
Most Australians despise what Pauline Hanson stands for, yet politics in this country is now orbiting around One Nation. In this timely Quarterly Essay, David Marr looks at Australia's politics of fear, resentment and race. Who votes One Nation, and why? How much of this is due to inequality? How much to racism? How should the major parties respond to anti-immigrant and anti-Muslim voices? What damage do Australia's new entrepreneurs of hate inflict on the nation? Written with drama and wit, this is a ground-breaking look at politics and prejudice by one of Australia's best writers. "This woman went to prison, danced the cha-cha on national television for a couple of years, and failed so often at the ballot box she became a running joke. But the truth is she never left us. She was always knocking on the door. Most of those defeats at the polls were close-run things. For twenty years political leaders appeased Hanson's followers while working to keep her out of office. The first strategy tainted Australian politics. The second eventually failed. So she's with us again - the Kabuki make-up, that mop of red hair and the voice telling us what we already know: 'I'm fed up.'" --David Marr ...Show more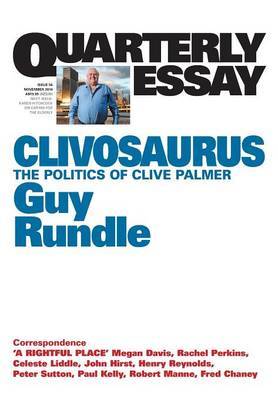 $19.99
AUD
Category: Current Affairs | Series: Quarterly Essay Ser.
Who is Clive Palmer, and what does his ascent say about Australia's creaking political system?In Clivosaurus, Guy Rundle observes Palmer close up, examining his rise to prominence, his beliefs, his deals and his politics - not to mention his poetry. Rundle shows that neither the government nor the media have been able to take Palmer's measure. Convinced they face a self-interested clown, they have failed to recognise both his tactical flexibility and the consistency of his centre-right politics.This is a story about the Gold Coast, money in politics, Canberra's detached political caste and the meaning of Palmer's motley crew. Above all, it is a brilliantly entertaining portrait of 'the man at the centre of a perfect storm for Australian democracy, a captain steering his vessel artfully in the whirlpool.''In the first half of the year we saw Tony Abbott treated with deference to his values and beliefs, as his chaotic and lying government slid from one side of the ring to the other, while Clive Palmer, ploughing a steady course on a range of key issues, was treated as the inconstant one. No wonder no one could tell what he was going to do next - they weren't even bothering to look at where he had come from.'  Guy Rundle, Clivosaurus ...Show more
$29.99
AUD
Category: Current Affairs
Around the world in Britain, the United States, Asia and the Middle East, there are people with power who are cashing in on chaos; exploiting bloodshed and catastrophe to brutally remake our world in their image. They are the shock doctors. Thrilling and revelatory, "The Shock Doctrine" cracks open the secret history of our era. Exposing these global profiteers, Naomi Klein discovered information and connections that shocked even her about how comprehensively the shock doctors' beliefs now dominate our world - and how this domination has been achieved. Raking in billions out of the tsunami, plundering Russia, exploiting Iraq - this is the chilling tale of how a few are making a killing while more are getting killed. ...Show more
$16.95
AUD
Category: Current Affairs | Series: Quarterly Essay Ser.
In Australian Story, Mungo MacCallum investigates the political success of Kevin Rudd. What does he know about Australia that his opponents don't? This is a characteristically barbed and perceptive look at the challenges facing the government and the country. MacCallum argues that the things we used to rely on are not there anymore. On the Right, the blind faith in markets has recently collapsed. The Left lost its guiding light with the demise of the socialist dream.In entertaining fashion, MacCallum dissects the myths that made Australia: the idea of the Lucky Country, with endless pastures, a workingman's paradise, a new Britannia, and more. In newly uncertain times, MacCallum argues, Rudd has sought to tap into these myths, in the process reclaiming them from John Howard. ...Show more
$35.00
AUD
Category: Current Affairs
The New York Times bestselling author of The Four and NYU Business School professor delivers an insightful, urgent analysis of who stands to win and who's at risk to lose in a post-pandemic world. The Covid-19 outbreak has turned bedrooms into offices, pitted young against old and widened the gaps betwe en rich and poor, red and blue, the mask-wearers and the mask-haters. Some businesses, like Amazon and video conference software maker Zoom, woke up to find themselves crushed under an avalanche of consumer demand. Others, like the restaurant, travel, hospitality and live entertainment industries, scrambled to not become instantly obsolete. But the pandemic has not been a change agent so much as an accelerant of trends that were already well underway. In Post Corona, Galloway outlines the contours of both crisis and opportunity that lie ahead. While the powerful tech monopolies will thrive in the disruption other businesses, like higher education, will struggle to maintain a value proposition that no longer makes sense when we can't stand shoulder to shoulder. Combining his signature humour and brash style with razor-sharp business insights, Galloway offers both warning and hope in equal measure. ...Show more
$29.99
AUD
Category: Current Affairs
From the author of El Narco, a searing investigation into the enormous black market for firearms, essential to cartels and gangs in the drug trade and contributing to the epidemic of mass shootings. The gun control debate is revived with every mass shooting. But far more people die from gun deaths on th e street corners of inner city America and across the border as Mexico's powerful cartels battle to control the drug trade. Guns and drugs aren't often connected in our heated discussions of gun control but they should be. In Ioan Grillo's groundbreaking new work of investigative journalism, he shows us this connection by following the market for guns in the Americas and how it has made the continent the most murderous on earth. Grillo travels to gun manufacturers, strolls the aisles of gun shows and gun shops, talks to FBI agents who have infiltrated biker gangs, hangs out on Baltimore street corners, and visits the ATF gun tracing center in Virginia. Along the way, he details the many ways that legal guns can cross over into the black market and into the hands of criminals, fueling violence here and south of the border. Simple legislative measures would help close these loopholes, but America's powerful gun lobby is uncompromising in its defense of the hallowed Second Amendment. Perhaps, however, if guns were seen not as symbols of freedom, but as key accessories in our epidemics of addiction, the conversation would shift. Blood Gun Money is that conversation shifter. ...Show more
$29.99
AUD
Category: Current Affairs
'In a world of disrupters, Eliot Higgins and Bellingcat have turned the world of intelligence gathering on its head . . . Their success is a wake-up call to governments who have been asleep at the wheel about what is needed to fight dictators and kleptocrats' Bill Browder, bestselling author of Red Noti ce After the Russian suspects in the Salisbury poisoning appeared on television, it took just under two weeks for the real identity of one of them to be revealed. This huge investigative coup wasn't pulled off by an intelligence organisation or a traditional news outlet. Instead it was made by Bellingcat, the open-source investigative unit that is redefining the way we think about news, politics and the digital future. We Are Bellingcat tells the story of how a school dropout created a whole new category of information-gathering and galvanised citizen journalists to solve some of the biggest stories of our time, using just their computer screens. It charts the tools that have developed for analysing data since the 1990s, from geo-location software that can pinpoint a precise place, to an app that can identify to the half hour the time of day when a photograph was taken. And it digs deep into some of Bellingcat's most successful investigations the truth about the downing of Malaysia Flight 17 over the Ukraine, the sourcing of weapons in the Syrian Civil War, scoops into journalistic phone hacking with the drama and detail of a crime novel. ...Show more