$19.99
AUD
Category: NEW & YOUNG ADULT | Series: Nikolai Duology
Enter the Grishaverse with the instant #1 New York Times-bestseller King of Scars by Leigh Bardugo. " Bardugo] touches on religion, class, family, love -- all organically, all effortlessly, all cloaked in the weight of a post-war reckoning with the cost (literal and figurative) of surviving the events that shape both people and nations." --NPR "The story exists at an intersection of past and future selves, and in the dawning understanding that what you most fear may be what you most need." --Washington Post Face your demons...or feed them. The dashing young king, Nikolai Lantsov, has always had a gift for the impossible. No one knows what he endured in his country's bloody civil war--and he intends to keep it that way. Now, as enemies gather at his weakened borders, Nikolai must find a way to refill Ravka's coffers, forge new alliances, and stop a rising threat to the once-great Grisha Army. Yet with every day a dark magic within him grows stronger, threatening to destroy all he has built. With the help of a young monk and a legendary Grisha general, Nikolai will journey to the places in Ravka where the deepest magic survives to vanquish the terrible legacy inside him. He will risk everything to save his country and himself. But some secrets aren't meant to stay buried--and some wounds aren't meant to heal. An Imprint Book "Dark, beautifully written, and full of characters who instantly get inside of your head, the first book in this new duology is an instant classic." --PopSugar "Why You'll Love It: ... Leigh Bardugo continues to breathe new life into her lush fantasy world, and it's impossible to resist reading every single one.For Fans of: Fantasy authors like Susan Dennard and Sabaa Tahir." --Paste "A richly detailed and refreshingly diverse world inhabited by individuals who, for all their magical talents, are resonantly human." --The Washington Post "Deadly clever political intrigue, heart-stopping adventure, memorable characters, and several understated, hinted-at romances (how will we wait? ) come together in one glorious, Slavic-folklore infused package. Bardugo's star continues to rise." --Booklist, starred review "The sharp dialogue and lovable characters continue to enthrall and bewitch long past the final chapter. With twists and revelations cleverly dispersed up until the very last page, this novel is a must-have for any book shelf." --School Library Journal, starred review The Grishaverse will be coming to Netflix soon with Shadow and Bone, an original series Praise for the Grishaverse "A master of fantasy." --The Huffington Post"Utterly, extremely bewitching." --The Guardian"The best magic universe since Harry Potter." --Bustle"This is what fantasy is for." --The New York Times Book Review" A] world that feels real enough to have its own passport stamp." --NPR"The darker it gets for the good guys, the better." --Entertainment Weekly"Sultry, sweeping and picturesque. . . . Impossible to put down." --USA Today"There's a level of emotional and historical sophistication within Bardugo's original epic fantasy that sets it apart." --Vanity Fair"Unlike anything I've ever read." --Veronica Roth, bestselling author of Divergent"Bardugo crafts a first-rate adventure, a poignant romance, and an intriguing mystery " --Rick Riordan, bestselling author of the Percy Jackson series"This is a great choice for teenage fans of George R.R. Martin and J.R.R. Tolkien." --RT Book Reviews ...Show more
Moxie
by Jennifer Mathieu
$16.99
AUD
Category: Young Adult
'I LOVE THIS BOOK SO MUCH!' Zoella '... this is my new favorite book. I'm proud to be a Moxie girl!' Jennifer Niven, author of All the Bright Places and Holding Up the Universe Vivian Carter is fed up. Fed up with her high school teachers who think the football team can do no wrong. Fed up with sexist dress codes, hallway harassment and gross comments from guys during class. But most of all, Viv Carter is fed up with always following the rules. Viv's mum was a tough-as-nails, punk rock Riot Grrrl in the '90s, and now Viv takes a page from her mother's past and creates Moxie, a feminist zine that she distributes anonymously to her classmates. She's just blowing off steam, but other girls respond and spread the Moxie message. As Viv forges friendships with other young women across the divides of cliques and popularity rankings, she realises that what she has started is nothing short of a girl revolution. TIME TO FIGHT LIKE A GIRL A page-turning read with a feminist message, for anyone who has ever had to deal with #everydaysexism 'MOXIE is sweet funny and fierce. Read this and then join the fight!' AMY POEHLER ...Show more
$19.99
AUD
Category: Young Adult | Series: The Infernal Devices
Love and lies can corrupt even the purest heart...In the magical underworld of Victorian London, Tessa Gray finds her heart drawn more and more to Jem, while her longing for Will, despite his dark moods, continues to unsettle her. But something is changing in Will - the wall he has built around himself is crumbling. Could finding the Magister free Will from his secrets and give Tessa the answers to who she is and what she was born to do? As their search for the truth leads the three friends into peril, Tessa's heart is increasingly torn, especially when one of their own betrays them. ...Show more
Dry
by Neal Shusterman; Jarrod Shusterman
$16.99
AUD
Category: Young Adult
The drought - or the Tap-Out, as everyone calls it - has been going on for a while now. Everyone's lives have become an endless list of don'ts: don't water the lawn, don't take long showers, don't panic. Until the taps run dry. Suddenly, Alyssa's quiet suburban street spirals into a warzone of desperat ion; neighbours and families turned against each other on the hunt for water. And when her parents don't return, she and her younger brother must team up with an unlikely group in search of water. Each of them will need to make impossible choices to survive. ...Show more
$19.99
AUD
Category: Non-fiction
"An eye-opening look into the story of Knight before his multibillion dollar company." --School Library Journal "A great story about how an ambition turned into a business...serves as a guide for accomplishing great things." --VOYA In this young reader's edition of the New York Times bestseller, Nike founder and board chairman Phil Knight "offers a rare and revealing look at the notoriously media-shy man behind the swoosh" (Booklist, starred review), opening up about how he went from being a track star at an Oregon high school to the founder of a brand and company that changed everything. You must forget your limits. It was only when Nike founder Phil Knight got cut from the baseball team as a high school freshman that his mother suggested he try out for track instead. Knight made the track team and found that not only could he run fast but also, more importantly, he liked it. Ten years later, young and searching, Knight borrowed fifty dollars from his father and launched a company with one simple mission: import high quality running shoes from Japan. Selling the shoes from the trunk of his car to start, he and his gang of friends and runners built one of the most successful brands ever. Phil Knight encountered risks and setbacks along the way, but always followed his own advice. Just keep going. Don't stop. Whatever comes up, don't stop. Filled with wisdom, humanity, humor, and heart, the young readers edition of the bestselling Shoe Dog is a story of determination that inspires all who read it. The Young Readers Edition is an abridged version of the internationally bestselling adult book and it features original front matter and back matter, including a new introduction and "A Letter to the Young Reader" containing advice from Phil Knight for budding entrepreneurs. ...Show more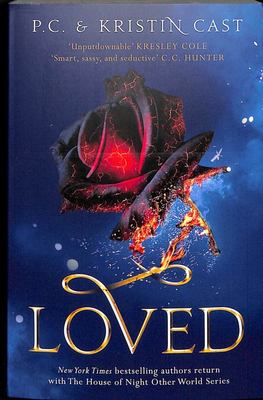 $19.99
AUD
Category: NEW & YOUNG ADULT | Series: House of Night Other Worlds Ser.
The world won't stay safe for long... Reunited in Tulsa after a year apart, Zoey and the Nerd Herd are ready to celebrate her eighteenth birthday. But it seems nothing at The House of Night is ever as quiet as it seems. With rabid red vampyres closing in, the friends must come together again. But a year is a long time. Have they grown too far apart? When the world fractures and allies become enemies, will darkness devour friendships or will light save those Zoey loves? From the bestselling authors of The House of Night series comes a new trilogy following the kick-ass heroine that is Zoey Redbird. ...Show more
$16.99
AUD
Category: Young Adult
Can you imagine being lost and not finding your way home again?Saroo Brierley became lost on a train in India at the age of five. Not knowing the name of his family or where he was from, he survived for weeks on the streets of Kolkata, before being taken into an orphanage and adopted by a family in Aust ralia.Despite being happy in his new home, Saroo always wondered about his origins. He spent hours staring at the map of India on his bedroom wall. He pored over satellite images on Google Earth seeking out landmarks he recognised. And one day, after years of searching, he miraculously found what he was looking for.Then he set off on a journey back to India to see if he could find his mother.This inspirational true story of survival and triumph against incredible odds is now a major motion picture starring Dev Patel, David Wenham and Nicole Kidman.This edition has been specially edited for younger readers who want to discover Saroo's extraordinary story for themselves. ...Show more
$19.99
AUD
Category: NEW & YOUNG ADULT
THE NEW YORK TIMES BESTSELLER A beautiful and distinguished family.A private island.A brilliant, damaged girl; a passionate, political boy.A group of four friends--the Liars--whose friendship turns destructive.A revolution. An accident. A secret.Lies upon lies.True love.The truth. We Were Liars is a m odern, sophisticated suspense that will leave you reeling. Read it. And if anyone asks you how it ends, just LIE. 'We Were Liars is heartbreaking, witty, beautiful and disturbing. E. Lockhart's best book to date.' JUSTINE LARBALESTIER 'A haunting tale about how families live within their own mythologies. Sad, wonderful, and real.' SCOTT WESTERFELD ...Show more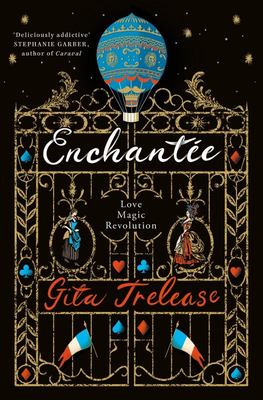 $16.99
AUD
Category: NEW & YOUNG ADULT
Paris is a labryinth of twisted streets filled with beggars and thieves, revolutionaries and magicians. Camille Durbonne is one of them. She wishes she weren't... When smallpox kills her parents, Camille must find a way to provide for her younger sister while managing her volatile brother. Relying on m agic, Camille painstakingly transforms scraps of metal into money to buy food and medicine they need. But when the coins won't hold their shape and her brother disappears with the family's savings, Camille pursues a richer, more dangerous mark: the glittering court of Louis XVI and Marie Antoinette. Using dark magic forbidden by her mother, Camille transforms herself into a baroness and is swept up into life at the Palace of Versailles, where aristocrats both fear and hunger for magic. As she struggles to reconcile her resentment of the rich with the allure of glamour and excess, Camille meets a handsome younge inventor, and begins to believe that love and liberty may both be possible. But magic has its costs, and soon Camille loses control of her secrets. And when revolution erupts, Camille must choose - love or loyalty, democracy or aristocracy, reality of magic - before Paris burns. ...Show more
$19.99
AUD
Category: NEW & YOUNG ADULT | Series: Shadow of the Fox Ser.
All is lost. To save everyone she loves from imminent death, kitsune shapeshifter Yumeko gave up the final piece of the Scroll of a Thousand Prayers. Now she and her ragtag band of companions must make one desperate final effort to stop the Master of Demons from using the scroll to call the Great Kami D ragon and make the wish that will plunge the empire into chaos. Shadow clan assassin Kage Tatsumi has regained control of his body and agreed to a true deal with the devil--the demon inside him, Hakaimono. They will share his body and work with Yumeko to stop a madman, and to separate Hakaimono from Tatsumi and the cursed sword that trapped the demon for nearly a millennium. But even with their combined skills and powers, this unlikely team of heroes knows the forces of evil may be impossible to overcome. And there is another player in the battle for the scroll, a player who has been watching, waiting for the right moment to pull strings that no one even realized existed...until now. ...Show more
$19.99
AUD
Category: NEW & YOUNG ADULT | Series: The Odd 1s Out
The sequel to The New York Times best-selling The Odd 1s Out, from YouTube phenomenon James Rallison whose YouTube videos are all about his 'odd' behavior. With over 13 million subscribers and millions more followers on social media, these animations have found their way into the hearts of fans who also feel like a bit of an odd one. In this second instalment in the Odd 1s Out series, James is back with characters, stories, and opinions, including: The upside of the robot uprising, Questionable pizza toppings, Strange yet completely reasonable fears, Inventions that don't exist, but should. Offering advice on accepting your quirks and growing up in the Internet age, The Odd 1s Out: The First Sequel is sure to be a musthave for old and new fans alike.   ...Show more
$29.99
AUD
Category: Young Adult
Sportopedia is your ultimate guide to the exhilarating world of sport. Learn amazing facts about all your favourite sports, and discover new ones you may not have come across before, like kabaddi and boccia. Whether you're into team sports, target sports, track and field, or aquatic sports, this book showcases a diverse array of athletes - male, female, able-bodied and Paralympians - and celebrates the unique talents of sportspeople everywhere, making it a treasure trove for all the family to share. ...Show more