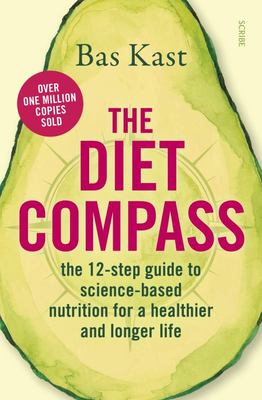 $32.99
AUD
Category: Diet & Nutrition
The answer to all questions about ageing and nutrition. When science journalist Bas Kast collapsed with chest pains when he was only 40, he was faced with an existential question: had he ruined his health with junk food? He decided to radically change his eating habits in order to heal himself. But what is really good for you? This was the beginning of a journey of discovery into the latest research into ageing and nutrition -- and it lasted several years. What do people with a particularly long life span eat? How can you lose weight efficiently? Are afflictions typical of old age avoidable? Can you 'eat yourself young' with certain foods? Much of what we think is healthy can even be harmful. Bas Kast has filtered out from thousands of sometimes contradictory studies scientifically founded findings about what really makes for healthy eating. ...Show more
$32.99
AUD
Category: Diet & Nutrition
Dr Nick Fuller, one of Australia's leading obesity researchers, has helped thousands of women to lose weight. Now he wants to help you. Women are constantly bombarded with information about the latest diets - diets that can result paradoxically in weight gain and aren't grounded in any studies. Now it' s time to cut through all those fads. There are countless reasons women gain weight, including- Years of dieting Going on the contraceptive pill Long hours at work Pregnancy Menopause Ageing In Interval Weight Loss for Women Dr Nick Fuller explains the six key principles behind successful, sustainable weight loss. He addresses all the common pitfalls and the hurdles women face, and provides simple, effective advice based on his work with women facing similar issues. Containing delicious recipes and meal plans, Interval Weight Loss for Women allows you, week by week, to take back control of your body - and to stop the yo-yo dieting for good. ...Show more
Fast 800 Recipe Book
by Claire Bailey, Justine Pattison, Michael Mosley
$35.00
AUD
Category: Diet & Nutrition
 The highly anticipated companion to the No.1 bestseller The Fast 800 150 delicious new recipes to help you combine rapid weight loss and intermittent fasting for long term good health This companion cookbook to the international bestseller The Fast 800 by Dr Michael Mosley is filled with delicious, ea sy, low carb recipes and essential weekly meal planners, all carefully formulated by Dr Clare Bailey and Justine Pattison to help you lose weight, improve mood and reduce blood pressure, inflammation and blood sugars. Studies show that 800 calories is the magic number when it comes to successful dieting. It's high enough to be manageable, but low enough to speed weight loss and trigger a range of positive metabolic changes. In The Fast 800, Dr Michael Mosley brought together all the latest science, including Time Restricted Eating, to create an easy-to-follow programme, and this collection of all-new recipes, all photographed in full colour, will help you achieve all your goals. Every recipe is also calorie coded and noted with nutrition metrics to help you on your path to long term health.  ...Show more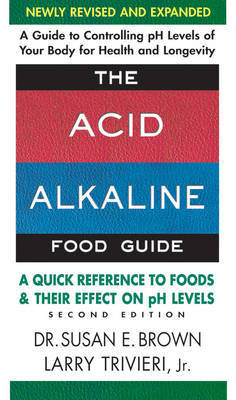 $16.99
AUD
Category: Diet & Nutrition
In the last few years, researchers around the world have increasingly reported the importance of acid-alkaline balance. A perennial bestseller, THE ACID-ALKALINE FOOD GUIDE was designed as an easy-to-follow guide to the most common foods that influence your body's pH level. This second edition has been expanded to include dozens of additional foods. Updated information, also, explores (and refutes) the myths about pH balance and diet and guides the reader to supplements that can help the body achieve a healthy pH level. THE ACID-ALKALINE FOOD GUIDE begins by explaining how the acid-alkaline environment of the body is influenced by foods. It then presents a list of thousands of foods and their acid-alkaline effects. Included are not only single foods, such as fruits and vegetables, but, also, popular combination and even fast foods, like burgers and fries. In each case, you'll not only discover whether a food is acidifying or alkalising, but, also, learn the degree to which that food affects the body. Informative insets guide you in choosing the food that's right for you. The first book of its kindnow updated and expandedTHE ACID-ALKALINE FOOD GUIDE will quickly become the resource you turn to at home, in restaurants and whenever you want to select a food that can help you reach your health and dietary goals. ...Show more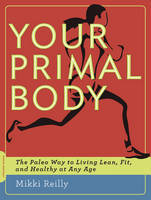 $22.99
AUD
Category: Diet & Nutrition
In the vein of "The Paleo Solution" and "The Paleo Diet", a personal trainer and former competitive body builder offers the paleo life-plan, with diet and fitness programs, for a lean, muscular, vibrantly healthy body. "Your Primal Body" is a book that will transform how you think about your body. Not j ust another fitness/weight-loss book, "Your Primal Body" shifts the paradigm for how to achieve a lean, muscular, vibrantly healthy body according to your genetic inheritance. This is the same body your Stone Age ancestors had, expressed through the human genome that evolved over a period of 2.6 million years. It's the body you too can have when you learn how to follow ancestral dietary and activity habits in your 21st century life. Scientists studying the remains of early humans tell us how our ancestors were in far better shape than we modern humans, their bodies free of disease and painful conditions. Natural adaptation and selection occurred over millions of years when they lived in caves, hunted wild game, and foraged for plants and berries to survive-a way of life very different than ours today. "Your Primal Body" goes beyond theory and science to give you a practical plan for implementing primal fitness into your modern lifestyle. In Mikki Reilly's 5 Step Primal Body Program, central to the book, she shares her 20 years of experience in training people from all walks of life about how to lose weight, become fit, stay healthy, and condition their body for athletics. Reilly's clients span a range of ages, from 18 to 74, and the book includes their inspiring stories, along with their "before and after" pictures, placed throughout the text to illustrate the book's points and instructions. Their stories are not fictional composites but actual words of people who got the results they wanted from "going primal," telling exactly how they did it. The Primal Body approach is not a quickfix, but a complete overhaul in habits that have been stopping people from taking advantage of their natural inheritance, a fit and healthy body for life. ...Show more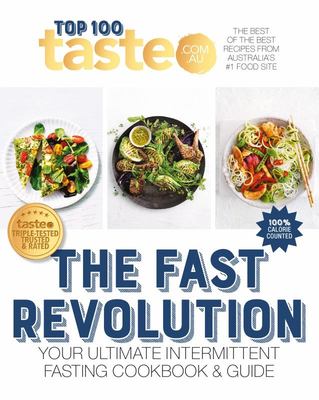 $34.99
AUD
Category: Diet & Nutrition | Series: Taste Top 100 Ser.
RECIPES & MENU PLANS FOR 800-CALORIE DAYS, 250-CALORIE LIGHT MEALS, 125-CALORIE SNACKS AND MORE Losing weight has never been so easy, so sustainable, or tasted so good. The Fast Revolution makes the entire process not just doable, but also fun. This is intermittent fasting without the fuss. Expertl y curated by taste.com.au's food and nutrition teams, The Fast Revolution is packed with more than 100 quick and easy healthy recipes all made with fresh ingredients. The Fast 800 and 5:2 Diets have been international sensations, educating us with the latest science around the long-term health and weight-loss benefits of intermittent fasting. Now, Australia's number-one, most loved and trusted food brand, taste.com.au, brings you The Fast Revolution, an inspiring cookbook where intermittent fasting meets real life, with innovative meal plans, delicious recipes, and calorie guides, plus tips and tricks you need to stay on track. The Fast Revolution is designed for everyone - no matter who you are, no matter your size, gender, exercise level or your dietary preferences. The Fast Revolution delivers recipes and planning tools to maximise the benefits of intermittent fasting to help you hit your magic 800-calorie target. The Fast Revolution also brings you closer to enjoying all the scientifically proven benefits of intermittent fasting - from delayed ageing, to reduced risk of a huge range of chronic diseases such as cancer, diabetes and heart disease. Vive la Revolution! ...Show more
$26.99
AUD
Category: Diet & Nutrition
The revised and expanded edition of the bestseller that changed millions of lives The science is clear. The results are unmistakable. You can dramatically reduce your risk of cancer, heart disease, and diabetes just by changing your diet. More than 30 years ago, nutrition researcher T. Colin Campbell and his team at Cornell, in partnership with teams in China and England, embarked upon the China Study, the most comprehensive study ever undertaken of the relationship between diet and the risk of developing disease. What they found when combined with findings in Colin's laboratory, opened their eyes to the dangers of a diet high in animal protein and the unparalleled health benefits of a whole foods, plant-based diet. In 2005, Colin and his son Tom, now a physician, shared those findings with the world in The China Study, hailed as one of the most important books about diet and health ever written. Featuring brand new content, this heavily expanded edition of Colin and Tom's groundbreaking book includes the latest undeniable evidence of the power of a plant-based diet, plus updated information about the changing medical system and how patients stand to benefit from a surging interest in plant-based nutrition. The China Study--Revised and Expanded Edition presents a clear and concise message of hope as it dispels a multitude of health myths and misinformation. The basic message is clear. The key to a long, healthy life lies in three things: breakfast, lunch, and dinner. ...Show more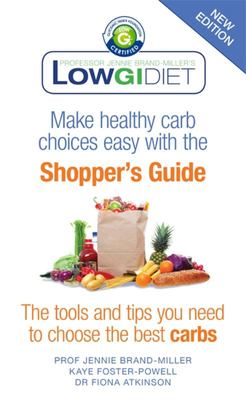 $14.99
AUD
Category: Diet & Nutrition
Whether you eat paleo or gluten-free, high-carb, moderate or low, the LOW GI DIET SHOPPER'S GUIDE gives you the tools and tips you need to choose the best carbs. Newly updated with the latest values and products, this easy-to-use guide show the GI values of your favourite foods and preferred brands and helps you identify healthier low GI carbohydrate alternatives so that you can start making a difference to your diet. Included are: -GI values for over 1,000 foods and pre-prepared meals, including new products -User-friendly tables arranged by food category -Comprehensive data on carbs per serve and glycemic load -A shopping list of low GI essentials -Tips for meal-planning -Ideas for gluten-free meals -Advice about eating out and keeping low GI -The facts about sugars and sweeteners Subscribe for free to GI News - the official newsletter of the Glycemic Index Foundation - at www.gisymbol.com/ginews. The GI symbol is your guarantee that the GI value stated near the nutrition information label is accurate, helping you select smart low GI carbohydrate foods with confidence to lower the overall GI of your diet. www.gisymbol.com The GI Symbol Program is run by the Glycemic Index Foundation, a not-for-profit organisation established by the University of Sydney, JDRF and Diabetes Australia. ...Show more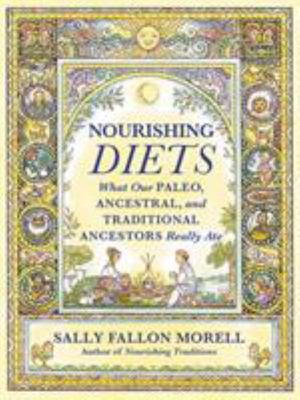 $39.99
AUD
Category: Diet & Nutrition
Sally Fallon Morell, bestselling author of Nourishing Traditions, debunks diet myths to explore what our ancestors from around the globe really ate--and what we can learn from them to be healthy, fit, and better nourished, today The Paleo craze has taken over the world. It asks curious dieters to look b ack to their ancestors' eating habits to discover a "new" way to eat that shuns grains, most dairy, and processed foods. But, while diet books with Paleo in the title sell well--are they correct? Were paleolithic and ancestral diets really grain-free, low-carb, and based on all lean meat? In NOURISHING DIETS bestselling author Sally Fallon Morell explores the diets of our primitive ancestors from around the world--from Australian Aborigines and pre-industrialized Europeans to the inhabitants of "Blue Zones" where a high percentage of the populations live to 100 years or more. In looking to the recipes and foods of the past, Fallon Morell points readers to what they should actually be eating--the key principles of traditional diets from across cultures--and offers recipes to help translate these ideas to the modern home cook. ...Show more
$59.99
AUD
Category: Diet & Nutrition
Used as a reference by students of acupuncture, Healing with Whole Foods is an invaluable guide to the theory and practice of Chinese medicine. With facts about green foods such as spirulina and blue-green algae and information about the "regeneration diets" used by cancer patients and arthritics, it is also an accessible primer on nutrition—and a inspiring cookbook with more than 300 mostly vegetarian, nutrient-packed recipes. The information on Chinese medicine is useful for helping to diagnose health imbalances, especially nascent illnesses. It's smartly paired with the whole-foods program: because the Chinese have attributed various health-balancing properties to foods, you can tailor your diet to help alleviate symptoms of illness. For example, Chinese medicine dictates that someone with low energy and a pale complexion (a yin deficiency) would benefit from avoiding bitter foods and increasing "sweet" foods such as soy, black sesame seeds, parsnips, rice, and oats. (Note that the Chinese definition of sweet foods is much different from the American one!) Pitchford says in his dedication that he hopes the reader finds "healing, awareness, and peace" by following his program. The diet is certainly ascetic by American standards (no alcohol, caffeine, white flour, fried foods, or sugar, and a minimum of eggs and dairy) but the reasons he gives for avoiding these "negative energy" foods are compelling. From the adrenal damage imparted by coffee to the immune dysfunction brought on by excess refined sugar, Pitchford spurs you to rethink every dietary choice and its ultimate influence on your health. Without being alarmist, he offers dietary tips for protecting yourself against the dangers of modern life, including neutralizing damage from water fluoridation. There's further reading on food combining, female health, heart disease, pregnancy, fasting, and weight loss. Overall, this is a wonderful book for anyone who's serious about strengthening his or her body from the inside out. ...Show more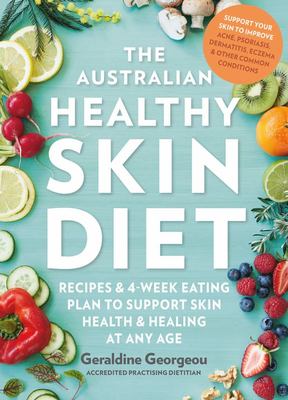 $35.00
AUD
Category: Diet & Nutrition
Must-read dietary advice and recipes for healthy skin for Australians of all ages, tackling acne, dermatitis and other common conditions.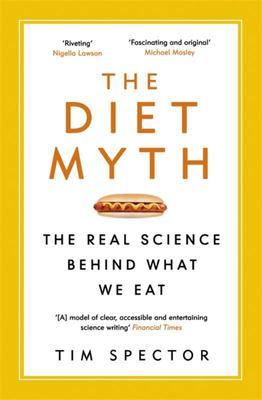 $19.99
AUD
Category: Diet & Nutrition
We are all increasingly bewildered by the simple question of what to eat. Despite advice from experts, governments and dieticians about the dangers of too much fat, sugar, protein and lack of exercise, our nutrition - and the global obesity crisis - is getting worse. Why can one person eat a certain mea l and gain weight and another eat exactly the same food and lose pounds? Genes provide part of the answer, but we have been overlooking one vital aspect of diet that lies within us. Thanks to recent breakthroughs, scientists have begun to examine the permanent residents in our guts: the thousands of previously unknown but essential microbes whose job it is to digest our food and keep us alive. Drawing on the latest science and his own research team's pioneering work, Professor Tim Spector explores the hidden world of the microbiome and demystifies the common misconceptions about fat, calories, vitamins and nutrients. Only by understanding how our own microbes interact with our bodies can we overcome our confusion about modern diets and nutrition to regain the correct balance of our ancestors. Mixing cutting-edge discoveries, illuminating science and his own case studies, Spector shows why we should stop listening to the myths of diet fads and instead embrace diversity for a healthy gut and a healthy body. Read by Gildart Jackson (p) 2015 Blackstone Audio ...Show more